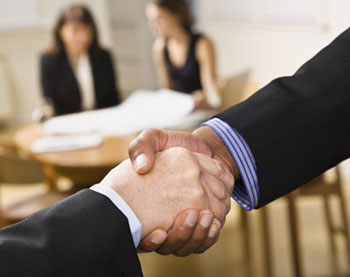 The corporate attorneys at Schlueter, Mahoney & Ross, P.C. are qualified to handle any business need. We work with small and mid-sized businesses from the first inception of the company through the selling of the company and provide all of the legal counsel needed to manage the business in between those times.
Legal Services Provided By Schlueter, Mahoney & Ross, P.C.
Arguably, the greatest benefit a corporate lawyer brings to a business is their legal insight and guidance. With a corporate attorney on your side you can manage risks effectively and avoid any pitfalls that could open you up to litigation. It is our job to make sure your business is set up and being managed properly to prevent these issues from ever arising.
Some of the corporate legal services provided by Schlueter, Mahoney & Ross, P.C. include:
Business Incorporation and Development. We help businesses incorporate by dealing with all the paperwork so you don't have to, from legal applications to Articles of Incorporation, Bylaws, taking the company public and more. We can set up your business to protect you from individual liability and handle any licensing, insurance and risk management tasks needed to legally establish the business.
Board Development. Our corporate lawyers have extensive experience designing protocols for electing and maintaining a board of directors, officers and senior managers.
Compensation and Employment Contracts. Let us help you figure out how to pay your executives and ensure compliance with state and federal regulations. We can draft employment contracts and termination procedures for employees at all levels of the organization.
HR Compliance. We draft internal policies and procedures to ensure companies are operating in compliance with all federal, state and local labor and employment laws. We offer periodic review of internal policies to make sure they're in compliance with changes to the laws.
Intellectual Property Protections. Our corporate attorneys can help you file for trademark and copyright protections to protect your business.
Dispute Resolution. We can advise you and recommend a course of action in any business dispute whether it is a contract dispute, employee termination or something else entirely. Our firm offers mediation and arbitration services and can provide business litigation if need be.
Contract Design. Properly drafted contracts will protect you from risk and ensure both you and the other parties are clear about expectations. We draft business contracts of all types including supplier and vendor contracts, employment contracts and more.
Selling the Business and Asset Distribution. When the time comes to sell the business we can manage the process for you and ensure a fair and equitable distribution of business assets.
The Schlueter, Mahoney & Ross, P.C. Advantage
The corporate attorneys at Schlueter, Mahoney & Ross, P.C. have over 25 years of experience in Colorado corporate and business law. We are well-versed in the issues businesses of all sizes face and pride ourselves on our deep understanding of our clients businesses.
One thing you will find at our firm that is lacking at others is our long-term, partnership approach to business relationships. We take the time to get to know our clients' businesses so that we can provide the most appropriate corporate law services for their specific needs. As corporate attorneys we work with our clients for years and become intimately familiar with the inner workings of the companies, their goals and objectives. This close relationship means our clients can call us anytime for any question, big or small, and we'll already be familiar with your business, policies, contracts and procedures.
Getting Started With Schlueter, Mahoney & Ross, P.C.
To learn more about the Corporate Law services provided by Schlueter, Mahoney & Ross, P.C., contact us at (303) 292-4525. We are always happy to arrange a consultation to discuss your needs and how our services can help you run your business.