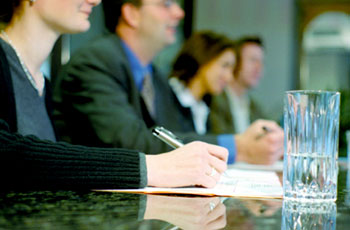 When two parties have difficulty reaching an agreement between themselves but do not want to take the matter to court, our Denver Colorado construction arbitration services can help resolve the dispute. In Denver, Colorado, construction arbitration is different from mediation, because the findings reached at the end by the arbitrator is binding on both parties. When conducted properly, Denver Colorado arbitration offers substantial savings of time and money when compared with a typical courtroom process.
The construction attorneys at Schlueter, Mahoney & Ross P.C. offer Denver, Colorado construction arbitration services to builders, architects, engineers, and suppliers who are in conflict with a client over alleged defects in construction or materials. We have a diverse team of legal professionals, allowing us to bring a wide range of expertise and knowledge to your case. We can offer you a strong defense as you go through Denver, Colorado construction arbitration. Having a knowledgeable legal team is particularly important when you choose arbitration; as both sides are bound by the arbitrator's decision, your case must be strong in order to succeed.
Although Denver, Colorado construction arbitration has many benefits, it is not always the best choice for every company. When you first contact us for construction arbitration services, we will help you determine whether arbitration is indeed the best choice in your case. If not, we are fully prepared to represent you in mediation, or in a full court case depending on your needs. Our construction lawyers have strong backgrounds in construction litigation and construction mediation as well as arbitration, allowing us to offer you solid counsel wherever your case may end up.
Our attorneys can be reached by phone at (303) 292-4525, at our office, or by filling out the contact form on our Contact Us page.
Our construction law attorneys, Michael A. Schlueter, Elliot Fladen and Lisa C. Secor represent clients throughout Colorado, including Denver, Aurora, Broomfield, Boulder, Greely, Commerce City, Lakewood, Highlands Ranch, Littleton, Arvada, Westminster, Pueblo, Thornton, Colorado Springs, and Fort Collins.