>
Resource
> Colorado Business Attorneys Help Settle Civil Disputes | Commercial Litigation
Colorado Business Attorneys Help Settle Civil Disputes | Commercial Litigation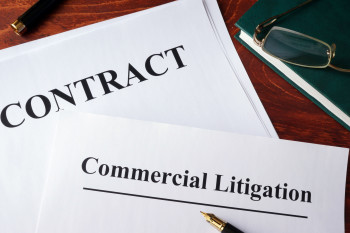 No one wants to be involved in a commercial litigation case, on either side, but sometimes, circumstances arise where it's unavoidable. Whether you're the plaintiff or the defendant, you're going to want the experienced Colorado business attorneys of Schlueter, Maloney & Ross, P.C. working alongside you to bring the matter to a fair and expedient settlement. Some of the most common reasons for civil complaints in business include contract, shareholder, and partnership disputes; claims of fraud or breach of fiduciary duty; debt collection matters; consumer protection issues; and business dissolutions. Although each of these matters involves a different aspect of business, the goal is the same: To achieve a fair settlement as simply as possible.
Negotiation – Many civil disputes can be settled by bringing the interested parties together with their business attorneys to discuss and negotiate the issue until they can reach an agreement that satisfies each side and the law. Negotiated settlements are a relative win for all parties because they avoid the added costs of mediation or courtroom litigation. The result of a negotiated settlement is a legally binding contract, to which both parties voluntarily agree.
Mediation – Mediation is a similar process to negotiation, except that the parties and their attorneys are negotiating with the help of a neutral, third-party mediator. The mediator has no legal authority to make a judgment, he simply helps guide negotiations and works to prevent the parties and attorneys from getting stuck at an impasse. Like a negotiation, the result of a successful mediation is a mutually agreed contract. If mediation is not successful, the matter may have to go on to arbitration or litigation.
Arbitration – Unlike negotiation and mediation, arbitration is conducted by a third party, often an expert in the industry or subject matter of the case, it works much like a court trial, and the decision of the arbitrator is legally binding. In many cases, business contracts include a clause requiring any disputes over that contract be solved by arbitration, rather than litigation; the parties agree to arbitration when they sign the contract. In other cases, the parties in a dispute might agree to arbitration if mediation fails. Each party is represented by a business attorney who presents a case to the arbitrator, although the proceedings are often less formal than in a courtroom. The arbitrator's decision is given in written form, is binding, and does not require the agreement of the parties since they agreed to abide by that decision before arbitration began.
State & Federal Trials & Appeals – Some cases are too contentious or too complex to handle outside of a courtroom. Sometimes, an appeal must be made to challenge a judicial decision, if some type of legal mistake has been made in the course of the trial. For cases that require commercial litigation, you'll want the full support of a law firm that is experienced in both business law and courtroom trials to build and present the most effective case for your cause.
Colorado Business Attorneys
The business attorneys at Schlueter, Mahoney & Ross, P.C. will carefully review your case and any contracts in dispute, and work toward a fair settlement. If your case requires litigation, our attorneys have the knowledge and experience to develop an effective and aggressive strategy to litigate your case for the best result possible. Contact us for a consultation on your case, and learn more about how our attorneys can help.
Facebook comments: