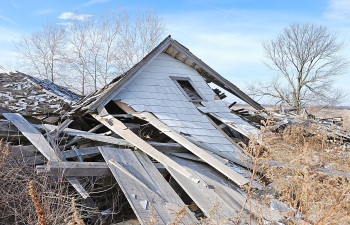 One little word can have a huge impact on how a property insurance claim gets filed and whether or not a claim gets paid. "Collapse" is one such word. The term is open to interpretation in legal cases where the question comes down to whether or not the actual collapse of a building is required or if something other than complete structural failure could trigger insurance policy coverage.
How and if the term is defined is important because while every policy has coverage limitations, limits, and exclusions most standard home and business property insurance policies don't define the term "collapse." This leads to confusion as to whether or not a claim will be covered.
The key question in regards to insurance coverage and damages awarded is "What constitutes a collapse?" Is an actual collapse required or does something less than a "full collapse" trigger coverage? Courts are divided on this issue.
When Is Coverage Triggered By A Collapse?
If a natural disaster damages your home or business, your first course of action will likely be to contact your insurance company to see if you're covered for the damages. In severe cases, the building may be completely destroyed and uninhabitable and there won't be a question of whether or not the structure is collapsed. In other cases, it may take an inspection by a structural engineer to determine the safety and habitability of the property. If a structural engineer finds that the structure is in danger of collapse, but it has not actually collapsed yet, coverage may be very subjective and selective.
There are three situations when collapse coverage comes into question:
When a building is completely flattened and destroyed.
When a building becomes distressed to the point where its structural integrity is in question.
When a building is vacated due to imminent collapse.
The question in the policyholders', the insurers', the judge, and the jury's minds is: At what point is collapse coverage triggered? Courts remain divided on this point despite such situations being commonly litigated.
For Answers, Look To The Policy
Like most questions of insurance coverage, the policy's language will help determine coverage. If you're lucky, your policy will contain a very clear definition of "collapse." It may define collapse as occurring when a structure has actually fallen down. More often than not, however, policies don't provide a clear definition. What we usually see is wording such as "direct loss caused by collapse of a building or any part thereof."
There's also the possibility that insurers will insert language that specifically states what is not considered collapse like settling, shrinking and expansion. Any damages resulting from such activities would then not be covered by the policy.
But again, courts are divided on this issue. There have been cases where courts have ruled in the policyholders' favor because the policy did not specifically define such limitations and the settling, shrinking, or cracking led to the property becoming unusable. Courts have found this to be evidence of constructive collapse and have awarded damages accordingly.
Coverage May Be Determined By The Court's Interpretation
Without specific wording or definition of the term "collapse" in the policy, your coverage chances will be left to the court's interpretation. Traditionally, courts were very conservative in their interpretation of what defines "collapse." That view held that there could only be a single meaning of the word: "the sudden falling-in, loss of shape, or flattening into a mass of rubble" of a building. Under this interpretation structures would need to be completely destroyed or very near it in order for collapse coverage to be awarded.
The modern interpretation is more lenient. Courts are now not requiring the complete destruction or falling down of a structure, but only "serious impairment of structural integrity." Part of this switch can be attributed to safety. No one wants a property owner to disregard repairs in order to simply wait for the building to collapse on its own, which happened under the strict interpretation of the term. By allowing more leniency in interpretation, outcomes are more favorable for the insured.
However, this interpretation opens up another question about definitions. This time it's "structural integrity." That term is not explicitly defined in case law. Therefore, there remains a certain amount of disparity among the courts when it comes to the amount and type of damage that is necessary to trigger coverage. Again, some require actual caving in before triggering coverage. Others require nothing more than a danger of collapse.
Contact Schlueter, Mahoney & Ross, P.C. For Advice And Representation In Insurance Cases
All in all, collapse coverage remains a tricky situation. Pursuing a claim in court requires a practiced approach and the skill of an attorney who is familiar with construction and insurance law and litigation. It is definitely not something you want to leave to chance or attempt to argue for yourself in court.
If you are engaged in a struggle to obtain claims coverage related to the collapse of a structure, contact the attorneys at Schlueter, Mahoney & Ross, P.C. for a review of your case. We can be reached at (303) 292-4525 or by filling out the contact form on our Contact Us page.
Our construction law attorneys, Michael A. Schlueter, Elliot D. Fladen, and JR Geraghty represent clients throughout Colorado, including Denver, Aurora, Broomfield, Boulder, Greely, Commerce City, Lakewood, Highlands Ranch, Littleton, Arvada, Westminster, Pueblo, Thornton, Colorado Springs, and Fort Collins.