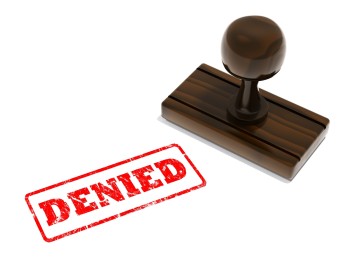 Perhaps you've heard the horror stories of dutiful insurance policyholders who pay their premiums but are denied coverage once they try to make a claim. To make matters worse, they then find themselves declined when it comes time to renew their policy! Can it happen? You bet it can…and it does happen more often than you may realize.
Insurance products aren't as straightforward as other products. It's not as easy as deciding to buy something and then doing so. The insurance company has a say in what it sells and to whom and at what price, which means it has the right to deny the sale/deny coverage.
What are your options when this happens? Will another company provide you with the coverage you need? Do you have any rights or remedies that can help you push for claims coverage?
When And Why Claims Are Denied
An insurance claim can be denied for many reasons. Some of the most common are:
1. The claim is not covered by the policy
Insurance protects you against certain risks, not all risks. If the specific claim is not covered by a particular policy, insurers are well within their rights to deny coverage. Check your policy exclusions carefully to see what is covered and what isn't covered by the policy. Read the fine print!
2. There's a deductible
In some cases the claim is at the level of the deductible. The deductible is what the policyholder has agreed to pay before the insurer is required to pay. If the amount of the claim is the same amount of the deducible or less, the insurer is not required to pay.
3. You caused the damage yourself
Claims can be denied is the policyholder caused the damage him or herself as in the case of arson.
4. The policy had lapsed or expired
It's possible the policy had expired before the claim was filed. In this case the insurer is under no obligation.
5. The claim was filed incorrectly or was not complete
Incorrect or incomplete claims are common causes for denial. Always comply with submission requirements exactly to limit these types of loopholes.
When Policies Are Not Renewed
It's an urban legend that too many claims during a certain period of time can lead to non-renewal. Unfortunately, it's not really a legend, it's true. Insurance companies are not obligated to renew policies and may decide that if you're filing too many claims, they're going to choose not to renew your policy. If they do decide to renew your policy, don't be surprised if your premiums go up.
What To Do If You Lose Your Coverage
If you lose your coverage, you'll need to talk to other insurers. Be prepared for some deep digging into your coverage and claims history and don't be surprised if you have to talk to several companies before finding one that will sell you a policy. You should also be prepared for higher premiums than what you were paying before. Having filed claims in the past marks you as a higher risk customer and you'll pay for that (literally).
Protect Yourself Against Claims And Coverage Denials
There are steps you can take to protect yourself from claims and coverage denials.
1. Talk to an agent
Don't try to get a great deal by buying coverage online. If it's really important to you or your business (and it is) take the time to meet with a local agent in person. The agent can help you create a policy tailored to your specific risks and you can ask all the questions about coverage and exclusions you want to make sure you're covered for what you truly need. There are many independent agents out there who work with multiple insurance companies so don't worry about getting tied in to one specific company. Independent agents can help you find the best coverage possible by securing quotes from multiple providers.
2. Read and understand your policy
Go over your policy and be sure to read the fine print. This will help you avoid nasty shocks when a claim is denied. Again, an agent can walk you though the limitations and exclusions so you understand your coverage. You can always purchase add-ons and riders if you really need something to be covered.
3. Pay for small claims yourself
Sometimes it's better to pay for small damages yourself to avoid making a claim – if the claim is less than or just over your deductible, for example. The risk of claim denial or coverage denial goes up with every claim, no matter how small.
4. Take steps to mitigate damage
Do what you can to prevent or minimize damage. If that means installing a security system to protect your business after-hours, do it. If it means installing a sump pump to ward off flood waters, do it. These small actions can work in your favor by 1) reducing the amount of damage to be claimed and 2) demonstrating to the insurance company that you have taken reasonable efforts to protect yourself and the property.
5. Talk to your agent (again)
Now that you have an agent, talk to him or her before you file a claim, not the claims center. Your agent will be able to tell you if it is worth filing a claim or if there are other actions you can and should take first. Perhaps that roof leak isn't as big a deal as you think it is. The agent may tell you to call a roofer for an estimate and then advise you to file a claim or not based on the amount of the estimate. Remember, just talking to an agent doesn't result in an automatic filing.
Explore Your Legal Options If You've Been Denied
Insurance companies have a legal duty to act in good faith and provide claims coverage for their customers. Any breach of this duty is grounds for investigation. Examples of breaches include:
Failure to investigate a claim.
Failure to negotiate a settlement.
Unwarranted denial of injury claims.
Denials of claims and denials of coverage aren't necessarily the final word on the matter. Denials and non-renewals can be contested. Successful challenges can result in the insurance company being held legally responsible for unreasonable denials. Your best course of action in any denial situation is to contact an attorney who is experienced with insurance claims and denials.
A skilled attorney will be able to assess your situation and advise you if you have a case or not. The services of the attorney can mean the difference between claim denial and/or having no insurance coverage and carrying on with business as usual so it is usually well worth the time and effort needed to meet with an attorney in these situations.
If your claim has been denied or your renewal denied, contact the business law attorneys at Schlueter, Mahoney, and Ross, P.C. at (303) 292-4525 or by filling out the contact form on our Contact Us page.
Our construction law attorneys, Michael A. Schlueter, Elliot D. Fladen, and JR Geraghty represent clients throughout Colorado, including Denver, Aurora, Broomfield, Boulder, Greely, Commerce City, Lakewood, Highlands Ranch, Littleton, Arvada, Westminster, Pueblo, Thornton, Colorado Springs, and Fort Collins.