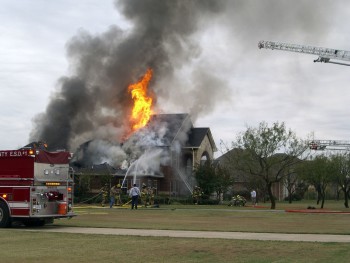 The Homeowners Insurance Reform Act was passed by the Colorado Legislature in 2013 and enacted on January 1, 2014. This Act was a direct result of the many catastrophic wildfires that the state had seen in recent years. The devastation these fires caused was widespread and far-reaching and uncovered a hard truth: many Colorado homeowners did not maintain enough coverage under their homeowners' insurance policies to cover them in the event of a total loss.
After witnessing such total destruction over and over again, and the impact that lack of coverage had on homeowners, the state took action to ensure homeowners had more appropriate coverage.
The Homeowners Insurance Reform Act
The Homeowners Insurance Reform Act impacts both homeowners and homeowners' insurance providers.
Homeowners:
Have a responsibility to determine whether or not the amount of coverage they have is sufficient.
Have the option of collecting 25% of their contents coverage reflected in the policy declaration without requiring a contents inventory.
Have 3 years from the date of the loss to sue for breach of contract.
Insurance Providers:
Must have updated policy language that is easy to understand; ideally written at no higher than a 10th grade level.
Must provide policyholders with an updated estimate of the replacement cost of their home based on construction inflation index. This estimate must be provided every two years.
Must include at least one year of additional living expense coverage in all homeowners policies for a total of up to 24 months of additional living expense coverage.
Must provide more detailed disclosures to help policyholders understand what is and isn't covered by their policy.
What Homeowners Can Do To Ensure They Have Adequate Coverage
The biggest thing to remember is that you, the homeowner, are now responsible for ensuring your home has enough insurance to cover its replacement. Keeping this in mind, homeowners should review their policies at least annually and after any major home improvements to make sure the amount of coverage provided by the policy is enough to cover the cost of rebuilding the home. Work with your insurance agent to determine the right amount, keeping in mind that market value is not the same cost as new construction. Market value includes the cost of the land as well as intangibles like demand and the interest of buyers in living in your area. These factors may drive up the market price of your home, but they don't affect the cost of rebuilding it if the home is completely destroyed by a wildfire or another accident. Many homeowners mistakenly pay higher premiums for coverage they will never need because of these points of confusion.
On the other hand, there are also many homeowners who don't have enough insurance to fully cover the cost of rebuilding their home or replacing its contents. Insurers are required to offer policyholders extended replacement cost coverage, which helps protect against situations in which there is not enough base coverage to meet increases costs related to stricter building codes or ordinances.
For more information about obtaining adequate insurance coverage read our post, "How To Ensure The Insurance Coverage You Have Is The Insurance Coverage You Need."
Filing A Claim
Homeowners' insurance exists to protect you from the financial costs of rebuilding or repairing your home after a major incident. If you do suffer a loss, one of the first things you'll do is contact your insurance company. As a policyholder in good standing you have a right to fair and accurate claims service but in exchange you must work with the insurance company and their adjusters to inform them of the loss and provide access to the property.
The best way to ensure you are receiving all the benefits to which you're entitled is to become familiar with your policy. Ideally, you will do this well before you need to file a claim, but even if you wait until a claim needs to be filed, knowledge is key to getting the coverage you need. Pay a particular attention to the policy Declarations page. This page will divide your coverage into categories and assign amounts to each category. That amount is the amount of payout you can expect under a total loss scenario. Categories are typically:
Dwelling
Other Structures, such as detached garages, sheds, etc.
Personal Property
Loss of Use/Additional Living Expenses
Liability
Medical Payments
Special Endorsements
Protect Your Most Expensive Investment With Proper Property Insurance Coverage
If you are confused by your policy's wording, want a second set of eyes to review the coverage amount or are having trouble getting your claim approved, contact the real estate law attorneys at Schlueter, Mahoney, and Ross, P.C. We can review policies and explain coverage amounts and terms to you, advise you of areas that may be lacking in coverage, help you manage the claims process, or represent you to the insurance company.
For a policy review, contact us at (303) 292-4525 or by filling out the contact form on our Contact Us page.
Our construction law attorneys, Michael A. Schlueter, Elliot D. Fladen, and JR Geraghty represent clients throughout Colorado, including Denver, Aurora, Broomfield, Boulder, Greely, Commerce City, Lakewood, Highlands Ranch, Littleton, Arvada, Westminster, Pueblo, Thornton, Colorado Springs, and Fort Collins.