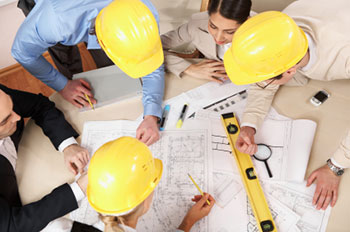 As an architect or engineer, your goal is to create attractive and functional buildings that comply with all local building code and have the durability and strength to stand the test of time. You work closely with your client to create a building that they can enjoy far into the future, and yet sometimes that building has problems which cause the client to allege Denver Colorado design errors and omissions against you, which may result in a professional malpractice lawsuit. When you face these charges, you need strong legal defense to represent your side of the case and resolve the situation.
Design professional malpractice in Denver, Colorado can be resolved in a number of different ways. They may go through traditional court proceedings, but they can also be resolved through construction mediation and construction arbitration. However your case progresses, the Denver, Colorado design errors and omissions attorneys of Schlueter, Mahoney & Ross P.C. are ready to help you defend your side of the case. Our construction attorneys will prepare a strong defense at every stage of your case with our expert knowledge of the law and network of industry experts.
Our construction lawyers can assist companies of any size with design professional malpractice in Denver, Colorado. Whether you are a sole architect or engineer or a large firm, our experienced attorneys can help you counter the plaintiff's accusations with confidence. As local Denver, Colorado design errors and omissions lawyers, we understand the relevant local building codes and case law, allowing us to build a strong defense on your behalf.
Our attorneys can be reached by phone at (303) 292-4525, at our office, or by filling out the contact form on our Contact Us page.
Our construction law attorneys, Michael A. Schlueter, Elliot Fladen and Lisa C. Secor represent clients throughout Colorado, including Denver, Aurora, Broomfield, Boulder, Greely, Commerce City, Lakewood, Highlands Ranch, Littleton, Arvada, Westminster, Pueblo, Thornton, Colorado Springs, and Fort Collins.