>
Resource
> Getting Paid in Difficult Economic Times: What Contractors, Sub-Contractors and Suppliers Need to Know
Getting Paid in Difficult Economic Times: What Contractors, Sub-Contractors and Suppliers Need to Know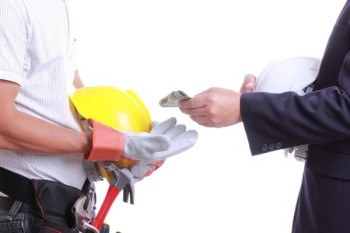 Slow payments or even non-payment for work performed are all too common in the construction industry. You'd be hard-pressed to find a construction contractor who hasn't had to deal with late payments or difficult clients who refused to pay. Oral promises and a handshake just don't cut it anymore. If you want your business to succeed, you'll need to develop ways to ensure you get paid.
Actions Contractors Can Take To Ensure Bills Get Paid
Get a Signed Contract. The single most important step a contractor can take to ensure payment is to present all of their clients with a professionally-drafted construction contract. This is your best protection for getting paid on your project. The contract should spell out how and when you are to be paid. Even if the client tries to get out of paying, the contract will protect and give you a legal leg to stand on if you have to take the client to court. If you do go to court you may end up waiting longer to receive payment, but late is better than never. Review our article, "

7 Tips For Preventing Disputes When Writing A Construction Contract

" to see exactly what should be in every construction contract you sign.
Establish Relationships. Don't rely on paperwork to establish your business relationship. It's much easier for a client to shrug off a contract. It's harder for people to disregard or ignore an actual person with whom they've established a relationship. That's why it's so important to talk to the project owner face-to-face. Face-to-face interaction gives you a chance to establish clear expectations for payment.
Talk to the One Who Writes the Checks. It never hurts to get your face in front of the one who holds the purse strings and establish a relationship with him or her too so you know who to call when there's a payment problem. Share the contract with them too, so they know the payment schedule. If a payment is late, don't be afraid to raise your voice and remind the client of their obligations.
Follow the Contract Yourself. Don't give the client any excuse to delay payment simply because you didn't follow the contract's rule for submitting bills or applying for payment. Follow the contract to the T to eliminate any opportunities for excuses.
Contact Your Attorney. If the client is habitually late, you might want to bring your construction law attorney in. The attorney can advise you on appropriate actions to take, act as your representative to the client, helping to provide extra incentive to pay, or even negotiate a new payment plan that works for everyone.
Place a Mechanic's Lien on the Property. As a last resort, you always have the option of placing a Mechanic's Lien on the property. The Mechanic's Lien is one of the oldest protections available for ensuring payment for work performed, dating all the way back to Thomas Jefferson. The mechanics lien allows you to claim the project/job as collateral. If you don't get paid, you have claim to the title of the property. It may also be called a construction lien or supplier's lien.
Strong Protections Exist If You're Willing To Use Them
The legal system actually tries really hard to protect tradesmen, subcontractors, laborers, and suppliers, but only if you're willing to use those protections. Too often small companies and individual contractors cave in to the pressure, and even bullying, from their larger counterparts and accept whatever is given to them or to bend to the way the prime contractor does business. While this might keep the peace, it won't keep your business afloat, which should be your primary responsibility.
You always have the option to use mechanics lien laws or obtain the help of a construction attorney to get paid for the work you've done, or the services and supplies you've provided.
If you're ever in a situation where you aren't getting paid for the work you've done, contact a construction law attorney at Schlueter, Mahoney & Ross, P.C. Our construction attorneys can be reached by phone at (303) 292-4525, at our office, or by filling out the contact form on our Contact Us page.
Our construction law attorneys, Michael A. Schlueter and Elliot D. Fladen represent clients throughout Colorado, including Denver, Aurora, Broomfield, Boulder, Greely, Commerce City, Lakewood, Highlands Ranch, Littleton, Arvada, Westminster, Pueblo, Thornton, Colorado Springs, and Fort Collins.
Facebook comments: