>
Resource
> Colorado Business Attorneys Help Settle Civil Disputes | Commercial Litigation
Colorado Business Attorneys Help Settle Civil Disputes | Commercial Litigation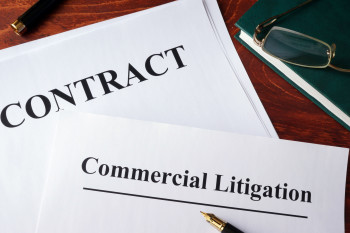 No one wants to be involved in a commercial litigation case, on either side, but sometimes, circumstances arise where it's unavoidable. Whether you're the plaintiff or the defendant, you're going to want the experienced Colorado business attorneys of Schlueter, Maloney & Ross, P.C. working alongside you to bring the matter to a fair and expedient settlement.
Common Causes of Commercial Litigation:
Contract disputes can arise when there is an issue with the terms of the contract itself or in the performance of obligations under a contract. For example, a dispute may arise over whether one party has fulfilled its obligations under a contract or whether the other party has breached its obligations under a contract. In some cases, parties may disagree over what was agreed to in terms of price, quality, and quantity.
In shareholder disputes, shareholders may disagree on how to manage their company or whether to sell it. In partnership disputes, partners may disagree on how to manage their business or how to divide profits or assets when they dissolve their partnership.
2. Claims of fraud or breach of fiduciary duty
A fiduciary duty is an obligation to act in the best interest of another person. Any time you enter into a contract with someone, you're entering into a relationship where you're owed certain obligations. If your partner fails to perform their obligations, they may have breached their fiduciary duty to you and you could have a claim for damages.
Fraud is more commonly associated with consumer law than commercial law, but it can also be involved in commercial litigation. Fraud occurs when someone makes a false statement that misleads another person into taking action—in this case, signing a contract, that they otherwise would not have taken had they known the truth about the situation.
In some cases, fraud and breach of fiduciary duty can overlap: if someone makes a false statement that misleads another person into taking action—in this case, signing a contract, that they otherwise would not have taken had they known the truth about the situation, then both fraud and breach of fiduciary duty may be involved in that scenario.
3. Debt collection matters
Debt collection matters are a common cause of commercial litigation. Debt collectors buy debts from the original creditor, and then attempt to collect on them. When debt collectors fail to follow the rules, they can end up in court.
Debt collection is a lucrative industry, it's also one where there's little regulation and oversight. As a result, debt collectors often engage in unfair practices to collect unpaid debts. These practices include:
Calling you at inconvenient times;
Calling you repeatedly;
Threatening to take legal action unless you pay your debt immediately; and
Threatening criminal prosecution when no such action has been taken by law enforcement agencies
4. Consumer protection issues
When a business or individual is accused of breaking the law, it's important that they have a strong defense. Another common cause of commercial litigation is consumer protection issues.
Consumer protection laws are designed to protect consumers from being ripped off by businesses or individuals who make false claims about their products or services. Consumers are often vulnerable to these types of claims because they don't know what they're buying and may not be able to tell whether the product or service being offered is legitimate or not. The best way for businesses and individuals to avoid falling into this trap is by making sure that all representations made about their products or services are accurate and truthful.
The dissolution of a business is one of the most common causes of commercial litigation. When a business dissolves, the owners of the business must decide how to divide up its assets and debts. Often, these decisions are made based on who has contributed more to the company, or who has been involved in the company for a longer period of time. However, some businesses dissolve with no clear idea about how to divide up their assets and debts fairly among all parties involved. This can lead to legal disputes between owners and can be very costly for all parties involved.
Although each of these matters involves a different aspect of business, the goal is the same: To achieve a fair settlement as simply as possible.
Negotiation – Many civil disputes can be settled by bringing the interested parties together with their business attorneys to discuss and negotiate the issue until they can reach an agreement that satisfies each side and the law. Negotiated settlements are a relative win for all parties because they avoid the added costs of mediation or courtroom litigation. The result of a negotiated settlement is a legally binding contract, to which both parties voluntarily agree.
Mediation – Mediation is a similar process to negotiation, except that the parties and their attorneys are negotiating with the help of a neutral, third-party mediator. The mediator has no legal authority to make a judgment, he simply helps guide negotiations and works to prevent the parties and attorneys from getting stuck at an impasse. Like a negotiation, the result of a successful mediation is a mutually agreed contract. If mediation is not successful, the matter may have to go on to arbitration or litigation.
Arbitration – Unlike negotiation and mediation, arbitration is conducted by a third party, often an expert in the industry or subject matter of the case, it works much like a court trial, and the decision of the arbitrator is legally binding. In many cases, business contracts include a clause requiring any disputes over that contract to be solved by arbitration, rather than litigation; the parties agree to arbitration when they sign the contract. In other cases, the parties in a dispute might agree to arbitration if mediation fails. Each party is represented by a business attorney who presents a case to the arbitrator, although the proceedings are often less formal than in a courtroom. The arbitrator's decision is given in the written form, is binding, and does not require the agreement of the parties since they agreed to abide by that decision before arbitration began.
State & Federal Trials & Appeals – Some cases are too contentious or too complex to handle outside of a courtroom. Sometimes, an appeal must be made to challenge a judicial decision, if some type of legal mistake has been made in the course of the trial. For cases that require commercial litigation, you'll want the full support of a law firm that is experienced in both business law and courtroom trials to build and present the most effective case for your cause.
Colorado Business Attorneys
The business attorneys at Schlueter, Mahoney & Ross, P.C. will carefully review your case and any contracts in dispute, and work toward a fair settlement. If your case requires litigation, our attorneys have the knowledge and experience to develop an effective and aggressive strategy to litigate your case for the best result possible. Contact us for a consultation on your case, and learn more about how our attorneys can help.
Facebook comments: